The Friday after Thanksgiving has become a holiday unto itself, an entire day dedicated as a living, breathing, money-spening shrine to consumerism.
Since the 1930's, "Black Friday" has marked the official beginning of the Christmas/December holiday shopping season, with shoppers lined up (or camped out) hours before stores open to take advantage of slashed prices and other promotions.
Over the years since then, Black Friday has descended into chaos, often becoming a dangerous shopping frenzy, with shoppers resorting to literally fighting each other at times: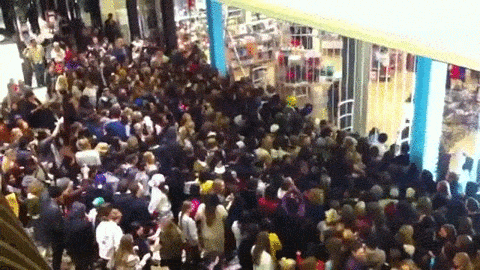 This year, California State Parks want you to do something a little bit different (and way less hectic). In conjunction with the Save The Redwoods League and the California State Parks Foundation, November 25th is being remixed as Green Friday. 
On Green Friday, over 100 California state parks, beaches, deserts and wildlife preserves will offer free parking passes, basically making them open to the public for the whole day.
Rather than obsess over getting to Best Buy or Target at 3 a.m. to save a few bucks on some gadget or other, Green Friday is intended as a day to be thankful for and recognize the importance of the beauty of the natural world all around us. It's the perfect excuse to experience the great outdoors with family and friends.
From the majestic Redwood forests in the north of the state to the river estuaries near Tijuana on the southern border, the State Parks services will offer guided hikes (so you can burn off those Turkey-day calories) and animal watching to all who observe the new Green Friday holiday.
If you live in California and would like to visit one of the 116 parks open to the public, you do have to register ahead of time. Many of the parks near the metro hubs of Los Angeles and San Francisco are already completely booked, but many are still open for reservations under the Green Friday website's "Pick A Park" feature.
If you don't live in California, the next best thing you can do is check out this b-roll footage from the state's gorgeous collection of state parks.
Source: Konbini